The Voice Of The BBC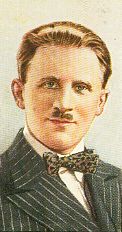 Stuart Hibberd was born on 5th September 1893. An army officer during World War I, he joined the BBC in 1924 as an assistant announcer at
No 2 Savoy Hill
next to the Savoy Hotel in London. In addition to announcing the various programmes he also read the news bulletins which in those days started with the words, "This is London calling,
2LO
calling." He subsequently became the BBC's Chief Announcer, a post he held for 25 years and his quietly confident voice became familiar and much respected.
Hibberd was the "Voice of the BBC" leading Britain through the General Strike of 1926, and informing the world that "The King's life is moving peacefully to its close"(King George V), in 1935. From 1949 he presented The Silver Lining, a Thursday afternoon programme aimed at disabled and housebound people. Hibberd retired as chief announcer in 1951, but continued to present The Silver Lining until the programme ended its run in 1964. He lived, with his family in Broadstone, in Dorset.
Stuart Hibberd MBE died on 1st November 1983.
TELEGRAM FROM ERIC GILLETT TO STUART HIBBERD ON THE OCCASION OF HIBBERD'S 25TH ANNIVERSARY OF JOINING THE BBC, dated 13 Nov 49: "MANY HAPPY RETURNS TO THE MICROPHONE = ERIC GILLETT
(Eric Gillett was a broadcaster of literary and drama criticism who also wrote and read the Children's Hour series "Going to the Pictures" )