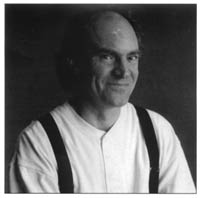 The Albion Band was the foremost acoustic band in England, performing mostly original material. Their musical appeal crossed all boundaries. For over 25 years, the vision and foresight of Ashley Hutchings daringly led, with the Albion Bands, indigenous British music from darkened clubs and presented it worldwide on festival stages, vibrant, alive and relevant. Generally considered to be the "Father of British Folk Rock", Ashley founded the three bands that changed the face of British Folk Music - The Albion Band, Steeleye Span and Fairport Convention. Alas The band is no longer with us, though the final line up did come back together at the beginning of 2005 for a special concert. This page is a memory of those days. This is the line up that recorded, amongst other things, the grand a glorious album Before Us Stands Yesterday, and we here at albionchronicles, can't think of a better title.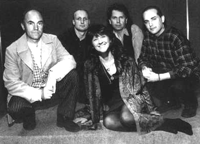 The Albion Band was Ashley's main preoccupation and had been a showcase for the very finest that the folk scene has to offer. The impressive list of past members reads like a roll of honour of folk music's greats and includes Martin Carthy, Martin Sirnpson, Shirley Collins, John Kirkpatrick., Simon Nicol, Cathy Lesurf,. John Tams. Ric Sanders, Dave Mattacks, Richard Thompson, Phil Beer, Chris While. Julie Matthews, Chris Leslie and many, many more. Thislineup followed in the same fine tradition.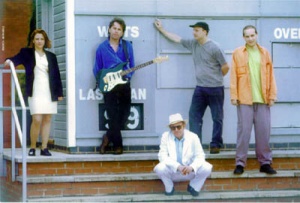 Ashley Hutchings is generally considered to be the 'father' of British Folk Rock - he founded the three bands that changed the face of British Folk Music, the Albion Band, Steeleye Span and Fairport Convention. Although the Albion Band has been Ashley's main preoccupation, in addition to being an innovative bandleader, he is a multi-talented writer, arranger and broadcaster, and has been involved in many projects involving words and music. On his 50th. birthday, BBC Radio 2 presented a celebration of Ashley's career, and the birthday concert at the Mill formed the basis of a 4-CD set simply entitled "The Guvnor". As well as the Albion Band, Ashley also currently runs the Ashley Hutchings Dance Band.
Gillie Nicholls is a prolific writer, an inspired singer and an accomplished guitarist, her style sitting somewhere between blues, jazz and folk. She writes and arranges her songs on an unconventionally tuned acoustic guitar with harmonies and drones. In 1996, she won the 'Best Northern Songwriter Of The Year' competition. She worked on her first album 'Spirit Talk' with Kevin Dempsey, and has since guested on many albums. Gillian delivers her songs with great passion and energy, exploiting her wide vocal range and distinctive expression.
Ken Nicol, a great guitarist and singer, was born in Preston, and first made his name on the Northern club circuit. A mutual musical appreciation between Ken and Pete Marsh led to the formation of the band'Nicol and Marsh's Easy Street'. The group generated good local response, and drew the attention of CBS records'. their first album, named after the band, was released on the Epic label. Ken later supported Al Stewart's band and Loudon Wainwright Ill on their seasonal circuit; Al Stewart then featured Ken as lead guitarist on his national tour. 'East Street' also issued two more highly successful albums. Ken stayed on in Southern California for two years, playing gigs as a solo acoustic performer, and as the lead singer and co-writer for the band 'Versailles'. He later returned to the UK to follow a highly successful career with a variety of bands.
Joe Broughton began playing the violin in 1982 at the age of six and has played everywhere from small clubs to the Leeds Opera House. Many fiddlers including Dave Swarbrick have commented on his virtuosity. Joe is also a surprising guitarist and jazz pianist, and has also been involved in circus and street theatre, juggling and riding a 6-foot unicycle (the BBC made a film about him!). He writes music for film and theatre, has played on various ardsts'CDs and has just finished studying composition at the Birmingham Conservatoire. He plays with his brother, razor-witted guitarist Ben Broughton, either as a duo or in their electric band, 'Daring Adventures". Ben and Joe's first CD as a duo 'The Continuing Adventures of........ was released in November 1996. It captures the spirit of Joe's performance, a special combination of musical brilliance and infectious enthusiasm and humour.
Neil Marshall, professional drummer since the age of 14, is a master of all styles from rock and jazz to world and folk music. Over the last few years he has been much in demand both live and in the studio. Neil is an original member of the Chris While Band and this year has received much critical acclaim for his work on her 'In The Big Room' album. Other artists Neil has worked with incude the Julie Matthews band, the Konkoma Maximum Latin Orchestra, the Ashley Hutchings Dance Band and Helen Watson whose forthcoming album features Neil on drums and percussion.